Nemetschek's AllPlan v14.0
Architectural CAD program
Comments by: Matt Koons
09/20/98
Contents
1. New for AllPlan v14.0 2. News About Nemetschek 3. The Conveyance's of AllPlan. (still to come) 4. Some Happy Accidents. (still to come)
1. New For AllPlan v14.0 . . . . a Quick Glance.
Menu Organization is more efficient.
New Program Families & Modules.
New Family:
New Modules:
Site Plan - Geodesy.
Digital Terrain Modeler - Geodesy.
Rafter Design - Architecture.
Roof Modeler - Architecture.
Smart Symbol - Bonus Tools.
Tagged Symbols - Bonus Tools.
Smart Fit - Bonus Tools.
List Generator - Bonus Tools.
Detailing Module -Basic.
Improved User's Manual.
Expanded Import & Export Translations. (3ds output, RUMBA, Fea data,)
Keyboard Macros Return.
Improved AllPlan Navigator.
---
New for AllPlan v14: By, Matt Koons. Reviewed: Sept-20th 1998
A. Menu Organization is More Efficient
With the addition of new Program Families and Modules, Nemetschek has rearranged the Control Panel. Before we had 2 Program Families, now we see 5.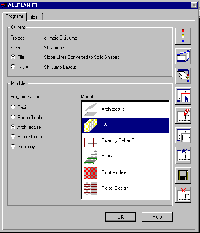 They are; Basic, Bonus Tools, Architecture, Presentation, and Geodesy. Four of the modules were derived from the Architecture & Presentation families used in v12.3. Nemetschek simply sorted the modules into smaller yet logical categories. The only truly new Program Family is the Geodesy.
Some of the commands used in v12.3 were expanded and made into their own modules. For example, the Roofing command has now become the Roofing Modeler module. Another command regarding Smart Symbols, has become a full module. The best part of this reorganization is that the symbolism has been maintained from the previous versions, so people should not be confused or lost.
The Navigator has now become a floating window.
The Open Files button now displays the entire information about the files. Unlike before where only the file number was displayed.
Another consolidation to the Control Panel has been the addition of the Administrative tool bar, which was a free floating window. (See Figure – Right)
In the Open Files window now you can use Quick Select to easily make a range of files available.
---
B. New Program Families & Modules
Geodesy .............A very impressive way to create digital terrain and site layouts.
The Geodesy program family has 2 modules:
Site Plan
Digital Terrain Modeler.
In Site Plan you pretty much create the lay of the land and establish the sites' boundaries. Working with either elevation points that you imported, or a 2d mesh & splines, you have all the tools at hand to generate a site plan with roads and the like.
In Digital Terrain Model (DTM) you go further with editing the terrain in 3d. This module allows you to create a mesh terrain, add contours with one pick of the mesh, create a solid 3d of the mesh, and calculate the "cut & fill" of two intersecting terrain meshes. I found this to be very easy to work with and amazingly fast. The program allows you to import surveyors point coordinate file, but as of today I have not tried it.
There are new filters and measuring tools for measuring the height of a specific point, or to measure the area and surface area of group of points in a mesh.
You can create "Profile Sections" and have multiple "Profile Sections" in a single view for 2d diagramming cuts and fills.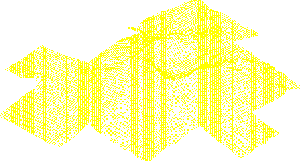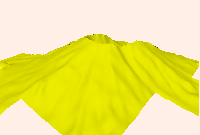 The commands I really liked were the ones that converted 3d elements to a Digital Terrain Model (DTM), convert a DTM into a 3d element ( used for making the mesh a rendered solid), and compute Cut and Fill. Also, you have the ability to convert a DTM to 2d.
Some things I've come across:
Remember that a 3d solid can be translated into a reference plane? Try this.
Take a DTM mesh and convert it to a 3d element.
Open the Architecture Module and create a Custom Reference plane.
Select the DTM 3d element and you'll have a reference plane that follows the terrain. So when you add walls and other elements that use reference planes they will automatically follow the shape of the land.
Rafter Design Module ............. ARCHITECTURE Program Family.
Rafter Design : There is nothing easier for adding Beams, rafters, and various rafter tails.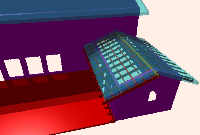 This module will create rafters, purlins & beams of any size and spacing along a roof plane. If you alter the pitch of the roof, the rafters automatically follow. There's a command to create beams along a roof's hip or valley. As usual you can quickly create a timber schedule based on the rafter & beam elements.
Special Note: If you have never used ALLPLAN, their database engine is far superior to any other cad program on the market. Nothing comes close to it's speed and versatility.
Roof Modeler Module ............. ARCHITECTURE Program Family.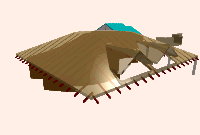 Roof Modeler : An expanded version of the v12.3 roof command, with more umpf.
After creating your roofing plane, these tools will allow you to refine and edit the roof. If you want to create a gambrel roof with specific dimensions & angles, or add a dormer here is where to go. With this module you should be able to create any type of roof quickly and easily with skylights, dormers and what ever else you want to add. I use to dread roofing layout, but not any more. On the contrary, I have fun trying to create new ones.
Smart Symbol Module ............. BONUS TOOLS Program Family.
Smart Symbol: Finally a full Smart symbol module for creating & editing.
Smart symbols are used in the same way Autocad users have blocks, but with a bit more intelligence than blocks. As quoted from the manual for a window smart symbol;
"A smart symbol is an intelligent design object which automatically adapts to the size of the opening in which it is inserted. The way symbols appear on the screen is scale-dependent."
In ALLPLAN, when you zoom in and magnify the model more detail is shown. It knows how much detail to show at certain magnifications, which could mean less time to refresh the screen. It also means you build one symbol for the details as well as the floor plans.
This use to be found in the Wall module, and they have expanded the idea into it's own module of commands and modifying tools.
Tagged Symbols Module ............. BONUS TOOLS Program Family.
Tagged Symbols: A type of Smart Symbol label with links to databases & Lists.
You begin defining a Tagged Symbol as though you were creating a smart symbol. It will act as a smart symbol, with the appearance of a label. It's also great for use in your title block too.
Smart Fit Module ............. BONUS TOOLS Program Family.
Smart Fit: Create your own patterns but give them intelligence as well. Very useful and flexible.
This is a great tool that all cad programs either have already, or must add immediately. This module allows you to create elements (for example, one floor tile), create a pattern using the elements, and finally applying the pattern to a region. As always with ALLPLAN you can have lots of specific information attributes saved with the elements for building schedules later.
You can specify if the boundary line can cut the pattern or not.
Place elements one-by-one, or by region.
Many elements can be used to create one pattern.
You can define substitute elements.
You're able to quickly delete & add elements after the pattern has been created.
It's more than just a simple repetitive hatch pattern. A smart fit pattern can have a variety of rules, which make it very flexible and easy to update and modify.
Detailing Module ............. BASIC Program Family.
Detailing Module : A full module dedicated to creating details based on the 2d or 3d model.
Very much like having picture within a picture.
This is another command that has been expanded to it's own module so that more features could be added. First of all you must create a Fileset before the Detailing Module will be available to you. Once you have that in place you're ready to start making details.
Create a detail window, then select the elements you want in the window. While the Detail Window toolbar is open you can decide if you want a border, change the magnification scale of the objects in the window, or change the scale of the text. If you need to make changes after you created the detail window simply use the Move Window command and the tool bar is brought back. The detail windows are dynamic, so if you move your model the detail will shift as well. On that note, detailing should be one of the last things you do.
I really like the fact that text can be resized & edited either at the model or while in the detail window. The changes are reflected on both. Text in the detail window can be scaled relative to the text on the model. Finally all of this can be an independent file for when you go to Plot Layout. It will save a lot of time creating details.
Improved User's Manual
Expanded Import & Export Translations
Keyboard Macros Return
Improved AllPlan Navigator
Extra Entry.
---
Well nothing is certain. As of September 1st Nemetschek's U.S. based office was recalled and no longer exists. To me this news brought a wave of shock, and then sadness because I really believe in this software as being the best there is today. The office is gone but it does not mean Nemetschek's ALLPLAN will cease to exist or be developed & supported. I've been assured that they will keep improving and refining the software. This has been known to happen for Nemetschek when trying to enter new markets in various countries. They're not giving up, simply stepping back to study what worked, what didn't, and what can be done for the software to be accepted. The web board is still being maintained, people are still using the software, it's just going to be harder to give direct feedback. They'll be back!
The sad part of all of this for me will be missing all of those who worked in the office. I got to meet a team of people that were the best people I could work with. They listened to the criticism and acted on it right away, they went out of their way to accommodate you and have you feel that you were making a difference. There was a shared passion for this software and it showed. I have the highest respect for all of them and I hope we get to team up again. Please stay in touch, it's hard to see you go.
My gut feeling is that Nemetschek will return, and this time architects will not be able to resist such a great software package. I will continue to post helpful procedures and ideas for those who are currently using ALLPLAN. People who use Autocad on projects haven't noticed that I've been drawing them out in ALLPLAN, because of the great translator built into ALLPLAN.
I have also taken drawing files from Microstation, worked on them in ALLPLAN, then saved them back as a Microstation file without a problem. Whenever someone asked if ALLPLAN could do this, that, or the other thing, the answer was . . . of course it can. Nothing is certain, and Nemetschek is certainly not going away, they will be back.
Best wishes to all,
Matt Koons
---