The Content Layout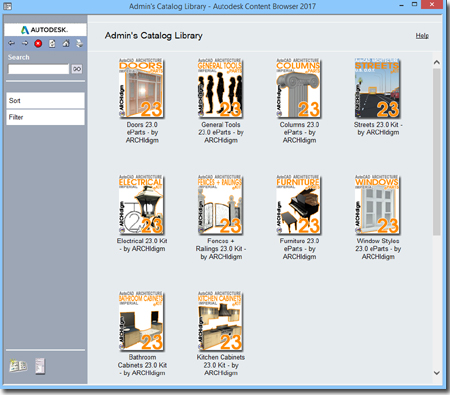 This product has been designed to work entirely within AutoCAD Architecture's Content Browser. Each product comes as a Catalog within which you will find Tool Palettes and Tool Catalogs organizing the various components found within the product.
For Columns 23.0 eParts, you will find the following Tool Palettes: Columns - Classic, Columns - Basic Shapes, Columns - Structural and Columns - Tools.
Columns - Classic: Doric, Ionic and Corinthian Orders in Round, Half-round and Half-Square shapes all in 24 and 12 inch sizes. User Guide provides instructions for creating custom sizes. All are true Structural Member Styles with Blocks for Capitals and Bases. All Blocks are Mass Elements. AutoCAD Solid Models have been included.
Columns - Basic Shapes: Offers numerous examples of multi-component column styles to be used as templates for your own needs. Examples include, shape control such as square-to-round-to-square, tapering, vessels, custom Member Profiles, Scale, Offset, Priority, Rotation and more.
Columns - Structural: Provides an overview of how to solve custom column needs for problems like Moment Frames, Rigid Frames and Stage Trusses. The User Guide explains how to configure a Structural Member Style for use along a Polyline Path based on the included example. Learn how to create columns with footings, Adding and Subtracting Blocks of 3D Masses, Repeating Blocks and more. Learn how to use Curtain Wall Styles for repetitive rows of columns and/or beams.
Columns - Tools: Provides a collection of Structural Member related commands scattered throughout AutoCAD Architecture that every user of Structural Members should know about. Also included are examples of customized Grid Bubbles and Tags. User Guide includes an extensive explanation of how to creat customized Beam and Column Schedule Table Tags.