Introduction
Thank you for your interest in the Bathroom Cabinets 23 eKit by ARCHIdigm. Before you decide to purchase this product we would like to inform you about what you get and how it works so you don't end up buying something you don't want.

This kit is not a software product and it does not do anything on its own. It is a library of Object Styles and MvBlocks designed exclusively for Autodesk®'s AutoCAD Architecture 2017 and up CAD program.

Though it has been labeled "Bathroom Cabinets" it has actually evolved into a full fledged Bathroom Design package with Bathtubs, Showers, Toilets, Bidets, Urinals, Lavatories, Faucets, Vanities and more. It even includes many commercial objects now such as Bathroom Partition Design Tools, Dispensers, Hand Dryers and more.

WHAT'S NEW:

Major Material Definition Styles Overhaul.

New Sliding Glass Door for Showers.

Shower glass now uses a Dots Hatch Pattern for 2D Elevation/Section Projections so you can see through it.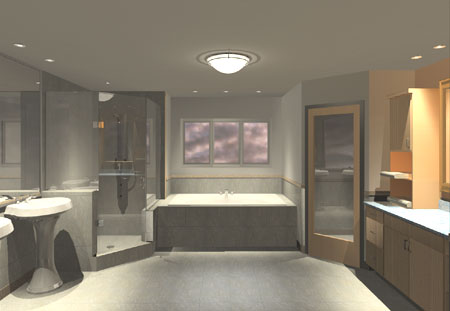 The Content Layout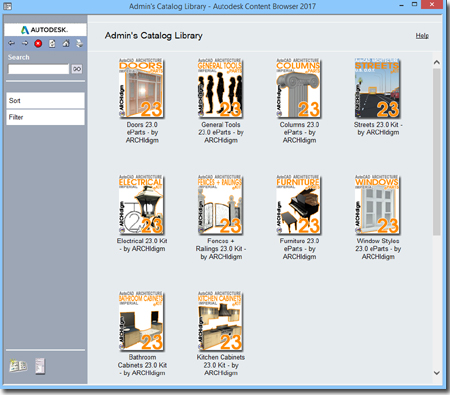 This product has been designed to work entirely within AutoCAD Architecture's Content Browser. Each product comes as a Catalog within which you will find Tool Palettes and Tool Catalogs organizing the various components found within the product.
Base Cabinets fall into one of three categories: standard, vanity and make-up vanity. Upper Cabinets have been divided into three categories: counter height, 21", 27" and 33" above counter height. Because all of these styles have been designed with native ACA Objects, the options for creating your own permutations are unlimited.
Though ACA comes with a basic library of Bathtubs, Showers, Lavatories, Toilets and so forth, we created replacements using native ACA Objects so you can use Materials for superior presentation work.
Below is a list of the Object Styles and MvBlocks available in this kit.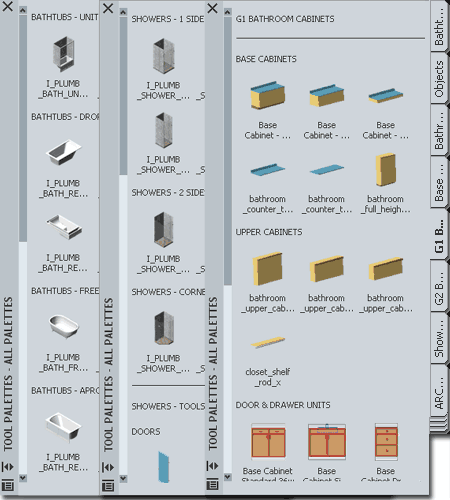 The Three Phases
Illustrated to the right are some shots of how we employ this kit for creating design solutions that may end up as Renderings but always end up in Construction Documents.
Pre-design
Use Standard Base and Upper Cabinet Styles with standard dimensions to begin a Bathroom study and/or to help clients understand rudimentary design intent. Cabinets can be displayed using the default Low Detail Display Configuration to produce a "By Block" homogeneous color.
Development
Standard Base and Upper Cabinet Styles can be refined dimensionally or swapped ( via Tool icon ) for other Cabinet Styles. Cabinets can be Trimmed or Broken (Break command), Extended and Stretched. Sinks take advantage of ACA's new Interference Block so you can subtract sinkholes from countertops. Special Endcaps can be applied for extra detailing or unique design requirements such as curved ends. There's even an option to Sweeping Molding along the top of the Upper Cabinets. Included MvBlocks have plenty of detail to impress your clients.
Presentation
Though Presentation can actually be a part of Pre-design, Development and Construction Documents, we see this phase as the one where you put in that extra effort to really put some jazz into the presentation. For this phase we provided Door and Drawer Units that can be Anchored into the Base and Upper Wall Cabinets or you can use our new G2 Cabinets that come preconfigured with Doors and Drawers. Once a Unit is in place, you can even swap Doors and Knobs. For live-linked 2D Elevations, all of the linework can be captured; potentially saving you hours of tedious mind-numbing drawing time with AutoCAD Lines. Base and Upper Cabinet Styles come with default Material assignments that you can, of course, change for whatever Materials you have in your library. The Cabinets have been divided into primary forms: Base, Body, Countertop, Backsplash, and Trim.
In Plan View we minimized the display of linework to match how most residential architects draw cabinets. As you study your design, you can take advantage of ACA's Low, Medium and High Detail Display Configurations to display the Cabinet Styles as homogenous masses ( ByBlock ), as individual components (pre-assigned Colors) and as Render-ready ( By Material ).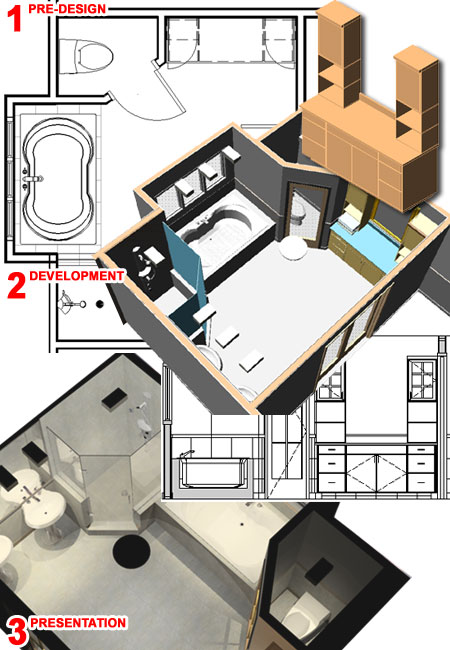 Multi-View Blocks


Faucets - Bathtubs and Showers
I_PLUMB_BATHTUB_FAUCET_KOHL_K-T8238_LEVER
I_PLUMB_BATHTUB_FAUCET_KOHL_K-T8238_SQUARE
I_PLUMB_BATHTUB_FAUCET_KOHL_K-T954-4
I_PLUMB_SHOWER_HG_PCB00088
I_PLUMB_BATHTUB_FAUCET_GENERIC
I_PLUMB_SHOWER_AND_BATHTUB_FAUCET_LEVER_
HANDLE_GENERIC
I_PLUMB_SHOWER_FAUCET_LEVER_HANDLE_GENERIC
I_PLUMB_FAUCET_ANTIQUE_KOHL_K-110
I_PLUMB_FAUCET_FREE_STANDING_JADO
I_PLUMB_SHOWER_HEAD_CEILING_GROHE_8.25_DIA

Faucets - Lavatories
I_PLUMB_LAV_FAUCET_KOHL_K-T8211-K_LEVER
I_PLUMB_LAV_FAUCET_KOHL_K81100
I_PLUMB_LAV_FAUCET_KNOB
I_PLUMB_LAV_FAUCET_HANDLE
I_PLUMB_LAV_FAUCET_CURVED_KOHL_K-942-4
I_PLUMB_LAV_FAUCET_KOHL_K-T195
I_PLUMB_LAV_FAUCET_COMMERCIAL_KOHL_K-13666

Lavatories
I_PLUMB_LAV_KOHL_K-2890
I_PLUMB_LAV_KOHL_K-2337
I_PLUMB_LAV_KOHL_K-2349
I_PLUMB_LAV_KOHL_K-2202
I_PLUMB_LAV_KOHL_K-2276
I_PLUMB_LAV_KOHLER_INTAGLIO_K-2292-0
I_PLUMB_LAV_KOHLER_IRON_BELL_VESSEL_K-2804-P5-0
I_PLUMB_LAV_KOHLER_IRON_BELL_K-2804-P5-0
I_PLUMB_LAV_KOHLER_VOX_K-14800
I_PLUMB_LAV_WALL_OVAL
I_PLUMB_LAV_PEDESTAL_OVAL
I_PLUMB_LAV_PEDESTAL_RECTANGULAR
I_PLUMB_LAV_COMMERCIAL_WALL
I_PLUMB_LAV_COMMERCIAL_WHEELCHAIR

Bidets
I_PLUMB_BIDET_MODERN
I_PLUMB_BIDET_CLASSIC

Toilets
I_PLUMB_TOILET_MODERN
I_PLUMB_TOILET_STANDARD_TANK
I_PLUMB_TOILET_LOW_TANK_KOHL_K-3398
I_PLUMB_TOILET_CLASSIC_KOHL_K-3463
I_PLUMB_TOILET_COMMERCIAL_WALL
I_PLUMB_TOILET_COMMERCIAL_FLOOR

Urinals
I_PLUMB_URINAL_TOUCHLESS
I_PLUMB_URINAL_TOUCHLESS_FULL_HT

Showers and Tools
I_PLUMB_SHOWER_UNIT_SQUARE_1_SIDE_48
I_PLUMB_SHOWER_UNIT_SQUARE_1_SIDE_42
I_PLUMB_SHOWER_UNIT_SQUARE_1_SIDE_40
I_PLUMB_SHOWER_UNIT_SQUARE_1_SIDE_36
I_PLUMB_SHOWER_UNIT_SQUARE_1_SIDE_34
I_PLUMB_SHOWER_UNIT_SQUARE_1_SIDE_32
I_PLUMB_SHOWER_UNIT_SQUARE_1_SIDE_30
I_PLUMB_SHOWER_UNIT_SQUARE_2_SIDE_40
I_PLUMB_SHOWER_UNIT_SQUARE_2_SIDE_36
I_PLUMB_SHOWER_UNIT_SQUARE_2_SIDE_32
I_PLUMB_SHOWER_UNIT_CORNER_3_SIDE_40
I_PLUMB_SHOWER_UNIT_CORNER_3_SIDE_36
I_PLUMB_SHOWER_UNIT_CORNER_3_SIDE_34
I_PLUMB_SHOWER_UNIT_CORNER_3_SIDE_32

Shower Bases - Adjustable
SHOWER_BASE_STONE
SHOWER_BASE_PRECAST
SHOWER_BASE_CORNER_3_SIDE_CUSTOM_SIZE

Shower Glazing
BATHROOM_SHOWER_GLAZING_FRAMED
BATHROOM_SHOWER_GLAZING_NO_FRAME_TOP
BATHROOM_SHOWER_GLAZING_NO_FRAME_RIGHT
BATHROOM_SHOWER_GLAZING_NO_FRAME_RIGHT_LEFT
SHOWER_GLASS_FRAME
SHOWER_GLASS_FRAME_BOTTOM_TOP
SHOWER_GLASS_FRAME_BOTTOM
SHOWER_GLASS
BATHROOM_GLASS_BLOCK_8X8_CORNER_END_90D
BATHROOM_GLASS_BLOCK_8X8_CORNER_END_45D
BATHROOM_GLASS_BLOCK_8X8_CORNER_END_OPEN
BATHROOM_GLASS_BLOCK_8X8

Shower Doors
SHOWER_GLASS
SHOWER_GLASS_45D
SHOWER_GLASS_WALL_MOUNT
Shower_Glass_Slider_Barn
Bathtubs and Tools
I_PLUMB_BATH_RECTANGULAR_60x36x22
I_PLUMB_BATH_RECTANGULAR_66x36x22
I_PLUMB_BATH_RECTANGULAR_72x36x22
I_PLUMB_WHIRLPOOL_CURVY_72
I_PLUMB_BATH_RECTANGULAR_APRON_WHIRLPOOL_60x30x20
I_PLUMB_BATH_RECTANGULAR_DROP-IN_OVERFLOW
_75x41x25
I_PLUMB_BATH_SQUARE_68x68x22
I_PLUMB_BATH_ROUND_60x60x20
I_PLUMB_BATH_FREESTANDING_CLAWFOOT_66x36x24
I_PLUMB_BATH_FREESTANDING_OVAL_72x42x24
I_PLUMB_BATH_RECTANGULAR_APRON_60x32x21
I_PLUMB_BATH_RECTANGULAR_APRON_60x32x16
I_PLUMB_BATH_RECTANGULAR_APRON_60x30x16
I_PLUMB_BATH_UNIT_60X32X18_PRE-FAB
I_PLUMB_BATH_UNIT_60X30X16
I_PLUMB_BATH_UNIT_60X32X16
I_PLUMB_BATH_UNIT_60X32X21
I_PLUMB_BATH_SET_60X60X20_ROUND
I_PLUMB_BATH_SET_72_WHIRLPOOL
I_PLUMB_BATH_SET_72X36X22
I_PLUMB_BATH_SET_66X36X22
I_PLUMB_BATH_SET_60X36X22
I_PLUMB_BATH_OVAL_FREESTANDING_70x31.5x21.5_BLU_BT8004B18

Bathtub Bases
BATHROOM_DROP-IN_BATHTUB_BASE
BATHROOM_BATHTUB_BASE_SOLID
BATHROOM_BATHTUB_BASE_SOLID_SPLASH
BATHROOM_BATHTUB_BASE_STUD_BACKERBOARD_TILE
Bathtub Doors
I_PLUMB_BATH_DOOR_SLIDER
I_PLUMB_BATH_DOOR_SLIDER_FRAMED
Other Items
I_FURN_WALL_MEDICINE_CABINET
I_FURN_WALL_MIRROR_CLASSIC
I_FURN_WALL_MIRROR_STANDARD
I_FURN_WALL_MIRROR_STANDARD_NO_FRAME
I_FURN_WALL_TOWEL_BAR
I_MECH_FAN_CEILING_10.25x10.25
I_MECH_FAN_WALL_10.125x10.125
I_PLUMB_BATHROOM_TOWEL_HOOK_CLASSIC
I_PLUMB_BATHROOM_TOWEL_HOOK_MODERN
I_PLUMB_BATHROOM_TOWEL_RING_CLASSIC
I_PLUMB_WATER_HEATER_50GAL_20IN_DIA
GENERATION 1 CABINETS (BASED ON WALLS)
Base Cabinets
bathroom_base_cab_12aff_x
bathroom_base_cab_makeup_vanity_x
bathroom_base_cab_x
bathroom_counter_top_splash_x
bathroom_counter_top_x
bathroom_full_height_cab_x
bathroom_splash_x

Upper Cabinets
bathroom_upper_cab_33_x
bathroom_upper_cab_54_x
bathroom_upper_cab_60_x
bathroom_upper_cab_66_x
closet_shelf_rod_x
GENERATION 2 CABINETS (BASED ON CURTAIN WALLS)
Base Cabinets
bathroom_base_cab_x_open_end
bathroom_base_cab_x_open_end_corner
bathroom_base_cab_x_open_end_sink
bathroom_base_cab_x_open_one_end
bathroom_base_cab_x_open_one_end_corner
bathroom_base_cab_x_square_end
bathroom_base_cab_x_square_end_2_corner
bathroom_base_cab_x_square_end_2_corner_sink
bathroom_base_cab_x_square_end_corner
bathroom_base_cab_x_square_end_makeup_vanity_22in_AFF
bathroom_base_cab_x_square_end_sink
bathroom_base_cab_x_square_end_vanity_12in_AFF
Upper Cabinets
bathroom_upper_cab_33
bathroom_upper_cab_33_2_corner
bathroom_upper_cab_33_corner
bathroom_upper_cab_54
bathroom_upper_cab_54_2_corner
bathroom_upper_cab_54_corner
bathroom_upper_cab_60
bathroom_upper_cab_60_2_corner
bathroom_upper_cab_60_corner
bathroom_upper_cab_66
bathroom_upper_cab_66_2_corner
bathroom_upper_cab_66_corner
Utility Cabinets
bathroom_full_height_cab_x
bathroom_full_height_cab_x_full_height
bathroom_full_height_cab_x_open_center
Door/Drawer Unit Styles
Base Cabinet Drawers 3 24w
Base Cabinet Drawers 4 18w
Base Cabinet Sink 36w
Base Cabinet Standard 36w
Utility Cabinet Standard 24w
Upper Cabinet Standard 36w
Door Styles
Cabinet Base Door Sngl Panel 2 Solid
Cabinet Base Door Sngl Panel Solid
Cabinet Base Door Sngl Solid
Cabinet Base Door Sngl Solid Knob
Cabinet Base Drawer Panel Solid
Cabinet Base Drawer Solid
Cabinet Base Drawer Solid Blank
Cabinet Base Drawer Solid Knob
Cabinet Upper Door Sngl Glazed
Cabinet Upper Door Sngl Glazed Muntins
Cabinet Upper Door Sngl Panel
Cabinet Upper Door Sngl Panel 2 Solid
Cabinet Upper Door Sngl Panel Arch Knob
Cabinet Upper Door Sngl Solid
Cabinet Upper Door Sngl Solid Knob
GENERATION 3 CABINETS (Modules Based on Curtain Walls)
Base Cabinets
bathroom_base_cab_x_1_door
bathroom_base_cab_x_1_door_1_drawer
bathroom_base_cab_x_2_door
bathroom_base_cab_x_2_doors_1_drawer
bathroom_base_cab_x_2_doors_2_drawers
bathroom_base_cab_x_2_drawers_equal
bathroom_base_cab_x_2_shelves_1_drawer
bathroom_base_cab_x_22.5d_2_doors_1_drawer
bathroom_base_cab_x_22.5d_22.5d_2_doors_1_drawer
bathroom_base_cab_x_22.5d_22.5d_sink_front_2_doors
bathroom_base_cab_x_3_drawers
bathroom_base_cab_x_3_drawers_equal
bathroom_base_cab_x_4_drawers
bathroom_base_cab_x_4_shelves
bathroom_base_cab_x_cook_top_front_2_drawers
bathroom_base_cab_x_corner_2_doors_1_drawer
bathroom_base_cab_x_corner_filler
bathroom_base_cab_x_sink_front_2_doors
Upper Cabinets
bathroom_upper_cab_x_1_door
bathroom_upper_cab_x_1_door_split
bathroom_upper_cab_x_2_doors
bathroom_upper_cab_x_2_doors_split
bathroom_upper_cab_x_22.5d_x_22.5d_2_doors
bathroom_upper_cab_x_3_shelves
bathroom_upper_cab_x_4_shelves
bathroom_upper_cab_x_corner_2_doors
bathroom_upper_cab_x_filler
Data
Appliance_Tag_Number
Plumbing_Tag_Number
Plumbing Fixture Schedule - ARCHIdigm
Appliance Schedule - ARCHIdigm
MvBlock_Label_Scale_Dependent_Object_Based
MvBlock_Label_Scale_Dependent_Style_Based
Commercial Bathroom Accessories
I_PLUMB_ADA_GRAB_BAR_30_LONG
I_PLUMB_ADA_GRAB_BAR_36_LONG
I_PLUMB_ADA_GRAB_BAR_44_LONG
I_PLUMB_HAND_DRYER_COMMERCIAL_1
I_PLUMB_HAND_SOAP_DISPENSER_COMMERCIAL_1
I_PLUMB_TOILET_PAPER_DISPENSER_DUAL_RECESSED_1
I_PLUMB_TOILET_PAPER_DISPENSER_DUAL_SURFACE_1
I_PLUMB_TOILET_SEAT_DISPENSER_1
I_PLUMB_TOILET_SEAT_DISPENSER_RECESSED_1
I_PLUMB_TOWEL_DISPENSER_AUTO_BLACK
I_PLUMB_TOWEL_DISPENSER_WASTE_1
I_PLUMB_TOWEL_DISPENSER_WASTE_RECESSED_1
Commercial Bathroom - Partition Walls
Bathroom Partition - Divider - Wall Ends
Bathroom Partition - Overhead Braced - Corner End (End)
Bathroom Partition - Privacy - Wall End
Bathroom Partition - Standard - Corner End (End)
Bathroom Partition 24 Inch Doors - Ceiling Mounted - Open Ends
Bathroom Partition 24 Inch Doors - Ceiling Mounted - Wall End Right (End)
Bathroom Partition 24 Inch Doors - Overhead Braced - Open Ends
Bathroom Partition 24 Inch Doors - Overhead Braced - Wall End Right (End)
Bathroom Partition 24 Inch Doors - Standard - Open Ends
Bathroom Partition 24 Inch Doors - Standard - Wall End Right (End)
Bathroom Partition ADA Door - Ceiling Mounted - Open End Left (Start)
Bathroom Partition ADA Door - Ceiling Mounted - Wall Ends
Bathroom Partition ADA Door - Overhead Braced - Open End Left (Start)
Bathroom Partition ADA Door - Overhead Braced - Wall Ends
Bathroom Partition ADA Door - Standard - Open End Left (Start)
Bathroom Partition ADA Door - Standard - Wall Ends
Bathroom Stall Wall - 2
Bathroom Stall Wall - 3
Buy, Download, Install and Use
| | |
| --- | --- |
| Product | Your purchase will provide you with immediate access to download one or more installation files and user guide(s). After installation new Content Catalogs will be available to Add inside AutoCAD Architecture's Content Browser. |
| Buy | |
| FYI | Look for Bundles to get discounts |
User Guide, included with each product, explains how to install and add Content Catalogs in AutoCAD Architecture.

CAD and IT Managers:
Some offices have highly customized template files with unique Display Representations, Sets and Configurations that may not work with our kit. We designed this kit for optimum performance using the default template files that come with ACA but all that means is that we utilized the High, Medium, Low and Presentation Display Configurations.

The Object Style files are devoid of undesirable Layers, Colors and Plot Styles.

Installation Structure:
Due to how the Tool Palette uses hard-coded paths our products have been designed for a local installation under "C:\Program Files\ARCHIdigm. If this location will not work in your environment, you can use the Content Browser "Move" tool to relocate all content and set new path statements for Tool icons (discussed in our User Guide).