Introduction
Thank you for your interest in the Streets 21 eKit by ARCHIdigm. Before you decide to purchase this product we would like to inform you about what you get and how it works so you don't end up buying something you don't want.

This kit is not a software product and it does not do anything on its own.. It is a library of Object Styles and MvBlocks designed exclusively for Autodesk®'s AutoCAD Architecture 2017 and up CAD program.

This product was designed to provide quick options for in-context elements (streetscapes) such as streets, curbs, signage, lighting, basic landscaping, parking, background buildings and more.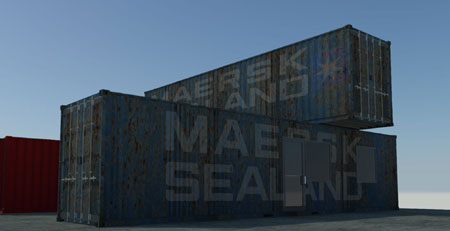 Because all of the streets styles are based on highly customized Wall Styles, they are limited to flat terrains.

New for Streets 21 eKit: To extend on the Sports Tools added to the Furniture 21 eKit, we added a Sports Category with sport fields. Swimming Pools Tool Palette has been added.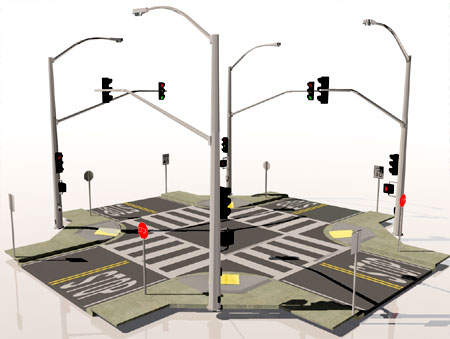 The Content Layout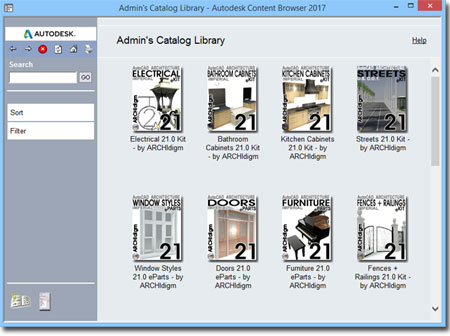 This product has been designed to work entirely within AutoCAD Architecture's Content

Browser. Each product comes as a Catalog within which you will find Tool Palettes and Tool Catalogs organizing the various components found within the product.
Below is a list of Object Styles that come with the Streets 21 eKit. Wall Styles have been designed to create a variety of street layouts with and without adjacent sidewalks and curbs. Sidewalks and Curbs have also been created using Wall Styles so you can work on sidewalk conditions independently of the street; i.e., for driveways and ramps.
Intersections have been created with Slabs. Standard driveways have been created with Door Styles. Regulatory signs have been created with Mass Elements attached to one common Structural Member (which can easily be changed) and do not require Image Maps. Some Objects, like parking meters and street lights have been created from Curtain Wall Styles to allow for rapid placement of multiples.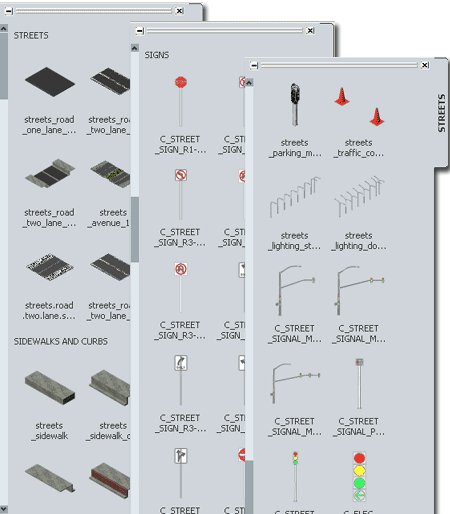 The Levels of Detail
The Streets 21 eKit comes directly from the work we do in our office and embodies our approach to implementing AutoCAD Architecture from concept studies to construction documentation.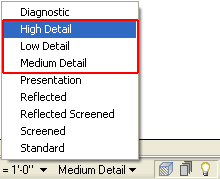 Illustrated to the right is a street intersection example showing how we used ACA's default Low, Medium and High Detail Display Representations to create a range of display options.
Low Detail
The Low Detail Display Representation will affect the Plan and Model Display Representations. In Plan View linework has been simplified to as little as possible while conveying the basic information of streets and intersections. In Model View this Detail Display Representation will show Objects in Colors you specify by direct assignment or by Layer; i.e., the Objects are set to "ByBlock".
Medium Detail
The Medium Detail Display Representation will affect the Plan and Model Display Representations. In Plan View you will see most of the linework found under High Detail but without surface hatching. In Model View Colors are determined by the Material assignment and do not use image maps.
High Detail
The High Detail Display Representation will also affect the Plan and Model Display Representations. In Plan View all linework is displayed and surface hatching for street paint, such as striping, will display. In Model View Objects will display Materials by their image map assignment ready for Rendering.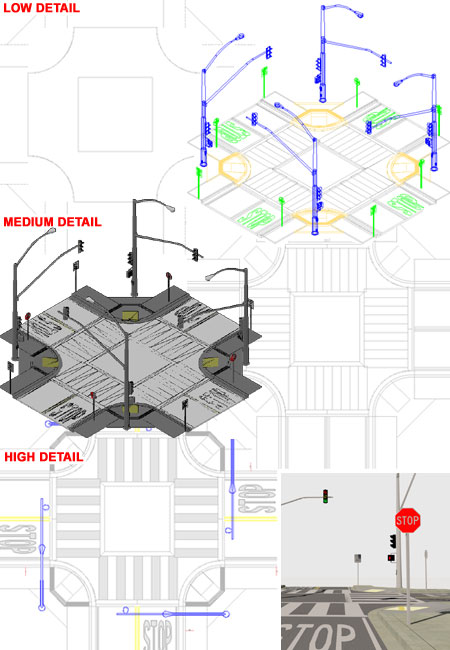 Streets (Wall Styles)

streets_avenue_10ft_island
streets_avenue_10ft_island_5ft_sidewalks
streets_avenue_10ft_island_bike_lane_parking
streets_avenue_10ft_island_bike_lane_parking_ 5ft_sidewalks
streets_avenue_6_lanes_10ft_island_bike_ lane_ parking
streets_commercial_12ft_median_x_4_ lane_ 4ft_bike_8ft_parking
streets_commercial_12ft_median_x_4_ lane_4ft_bike_8ft_parking_5ft_sidewalk
streets_commercial_12ft_median_x_6_ lane_ 4ft_bike_8ft_parking
streets_curb_sidewalk_curb_gutter
streets_driveway_raised_curb
streets_driveway_raised_curb_cobblestone
streets_gutter_curb_sidewalk_curb_gutter
streets_island_curb_gutter_2_sides
streets_pavement_paint_white_12in
streets_pavement_paint_white_12in_double
streets_pavement_paint_white_4in
streets_pavement_paint_white_4in_double
streets_pavement_paint_yellow_4in_double
streets_railway_track_2
streets_road_one_lane_country
streets_road_one_lane_private
streets_road_one_lane_private_gravel
streets_road_two_lane_5ft_sidewalks
streets_road_two_lane_country
streets_road_two_lane_country_ double_stripe_passing
streets_road_two_lane_country_one_stripe
streets_road_two_lane_country_shoulder
streets_shoulder_country
Other
streets_railway_track_1 (Curtain Wall Style)
streets_railway_track_2 (Wall Style)
Streets_Utility_Pole (Curtain Wall Style)
Sidewalks and Curbs (Wall Styles)
streets_sidewalk
streets_sidewalk_curb_gutter_left
streets_sidewalk_curb_gutter_Left_blue_curb
streets_sidewalk_curb_gutter_Left_red_curb
streets_sidewalk_curb_gutter_Left_white_curb
streets_sidewalk_curb_gutter_Left_yellow_curb
streets_sidewalk_curb_gutter_Right
streets_sidewalk_curb_planter_curb_gutter
streets_sidewalk_curb_sidewalk_curb_gutter
Driveways and Ramps (Door Styles)
Streets Sidewalks Accessible Ramp D
Streets Sidewalks Accessible Ramp E (ADA)
Streets Sidewalks Driveway 2
Streets Sidewalks Driveway 2 - 72
streets_sidewalks_driveway_10.5ft_deep
streets_sidewalks_driveway_5ft_deep
Driveways and Ramps (MvBlocks)
C_SIDEWALK_ADA_RAMP_CORNER_10FT_RADIUS
Building Masses
streets_bldg_20x20_garage_4-12
streets_bldg_40x20_shed_4-12
streets_bldg_40x30_bonnet_4-12_6-12
streets_bldg_40x30_dutch_hip_4-12_6-12
streets_bldg_40x30_flat
streets_bldg_40x30_gable_4-12
streets_bldg_40x30_gambrel_29-12_5-12
streets_bldg_40x30_hip_4-12
streets_bldg_40x30_mansard_4-12
streets_bldg_commercial_66x40_1_story
streets_bldg_commercial_68x65_1_story
streets_bldg_commercial_80x60_1_story
streets_bldg_commercial_80x60_2_story
streets_bldg_commercial_gas_island_4_pumps
streets_bldg_commercial_parking_garage_a
streets_bldg_medium_1_story_a
streets_bldg_medium_1_story_b
streets_bldg_medium_1_story_c
streets_bldg_medium_2_story_a
streets_bldg_multi-family_full_block_a
streets_prop_house_a
streets_prop_house_b
streets_prop_house_c
streets_prop_house_d
streets_prop_house_e
streets_prop_house_f_victorian
Electrical Devices (MvBlocks)
C_ELEC_PED_SIGNAL_18IN
C_ELEC_PED_SIGNAL_18IN_SUPPORT
C_ELEC_TRAFFIC_SIGNAL_12IN
C_ELEC_TRAFFIC_SIGNAL_12IN_LEFT_TURN
Pavement Markings (MvBlocks)
C_PAVEMENT_MARKINGS_ACCESSIBILITY_WHITE
C_PAVEMENT_MARKINGS_ACCESSIBILITY_WHITE_BLUE
C_PAVEMENT_MARKINGS_ARROW_LEFT
C_PAVEMENT_MARKINGS_ARROW_STRAIGHT
C_PAVEMENT_MARKINGS_ARROW_STRAIGHT_LEFT
C_PAVEMENT_MARKINGS_BICYCLE
C_PAVEMENT_MARKINGS_BIKE_LANE
C_PAVEMENT_MARKINGS_SCHOOL
C_PAVEMENT_MARKINGS_STOP
Pavement Markings (Wall Styles)
streets_pavement_paint_white_12in
streets_pavement_paint_white_12in_double
streets_pavement_paint_white_4in
streets_pavement_paint_white_4in_double
streets_pavement_paint_yellow_4in_double
Regulatory Signs (MvBlocks)
C_STREET_SIGN_R1-1_STOP
C_STREET_SIGN_R2-1_SPEED_LIMIT_30
C_STREET_SIGN_R2-1_SPEED_LIMIT_35
C_STREET_SIGN_R2-1_SPEED_LIMIT_40
C_STREET_SIGN_R2-1_SPEED_LIMIT_50
C_STREET_SIGN_R3-1_NO_RIGHT_TURN
C_STREET_SIGN_R3-2_NO_LEFT_TURN
C_STREET_SIGN_R3-4_NO_U_TURN
C_STREET_SIGN_R3-5L_LEFT_TURN_ONLY
C_STREET_SIGN_R3-5R_RIGHT_TURN_ONLY
C_STREET_SIGN_R3-6L_LEFT_TURN_STRAIGHT_ONLY
C_STREET_SIGN_R3-6R_RIGHT_TURN_STRAIGHT_ONLY
C_STREET_SIGN_R5-1_DO_NOT_ENTER
C_STREET_SIGN_R6-1L_ONE_WAY_LEFT
C_STREET_SIGN_R6-1R_ONE_WAY_RIGHT
C_STREET_SIGN_R7-5_ONE_HOUR_PARKING
C_STREET_SIGN_R7-8_RESERVED_PARKING
Traffic Signals (MvBlocks)
C_STREET_SIGNAL_MAIN_2_SIG_1_SIG_2_PED
C_STREET_SIGNAL_MAIN_3_SIG_1_SIG_2_PED
C_STREET_SIGNAL_PED_CALL_BUTTON
C_STREET_SIGNAL_PED_SINGLE
C_STREET_SIGNAL_SINGLE
Parking Lot Stalls (Curtain Wall Styles)
Parking Stalls
Parking Stalls - No Front Stripe
Parking Stalls - Standard - Front
Parking Stalls 30 Degrees
Parking Stalls 30 Degrees Type A
Parking Stalls ADA Car
Parking Stalls ADA Van
Parking Lot Tags and Schedules
Parking Stall Count (MvBlock Tag)
Parking Stall Number (MvBlock Tag)
Parking Lot Stall Totals (Schedule)
Parking Lot Stall Totals ADA (Schedule)
Parking Lot Paving and Islands
Streets_Grade_Asphalt (Mass Element Style)
Streets_Parking_Lot (Slab Style with Curb Edges)
Streets_Parking_Island_Curb_Gutter (Slab Style)
Streets_Parking_Island_Curb_Gutter_Grass (Slab Style)
Planting - 3D Trees (MvBlocks)
Streets_Planting_Tree_Conifer_1
Streets_Planting_Tree_Conifer_2
Streets_Planting_Tree_Conifer_3
Streets_Planting_Tree_Deciduous_1_Cherry
Streets_Planting_Tree_Deciduous_2_Willow
Streets_Planting_Tree_Evergreen_1_Generic
Streets_Planting_Tree_Evergreen_2_Oak
Streets_Planting_Tree_Evergreen_3_Palm
Streets_Planting_Tree_Evergreen_4_Generic
Streets_Planting_Tree_Evergreen_5_Generic
Streets_Planting_Tree_Evergreen_6_Generic
Planting - Grates (MvBlocks)
Streets_Planting_Grate_36in_Dia
Streets_Planting_Grate_36in_Square
Streets_Planting_Grate_48in_Dia
Streets_Planting_Grate_48in_Square
Streets_Planting_Grate_60in_Square
Streets_Planting_Opening_60in_Dia
Streets_Planting_Opening_60in_Square
Planting - Planters (MvBlocks)
Streets_Planting_Planter_Box_24sq_28ht
Streets_Planting_Planter_Round_24in_Dia_17ht
Streets_Planting_Planter_Round_30in_Dia_17ht
Streets_Planting_Planter_Round_48in_Dia_18ht
Streets_Planting_Planter_Round_72in_Dia_30ht
Streets_Planting_Planter_Seat_73sq_24ht
Streets_Planting_Planter_Vase_36in_Dia
Fixtures:
C_STREET_FIXTURE_BUS_SHELTER_1
C_STREET_FIXTURE_FIRE_HYDRANT_5.25
C_STREET_FIXTURE_MAILBOX_DOUBLE_1
C_STREET_FIXTURE_MAILBOX_SINGLE_1
C_STREET_FIXTURE_STEEL_BENCH_1
C_STREET_FIXTURE_STEEL_BENCH_FLAT
C_STREET_FIXTURE_TRASH_RECEPTACLE_28x26x46.5
C_STREET_FIXTURE_US_POST_DROP-OFF_BOX
C_STREET_FIXTURE_VENDING_NEWSPAPER_1
C_STREET_FIXTURE_VENDING_NEWSPAPER_1x2
C_STREET_FIXTURE_FOUNTAIN_1
Street Lights (Single - MvBlocks)
streets_lighting_decorative_acorn_1
streets_lighting_decorative_acorn_2
streets_lighting_decorative_box_1
streets_lighting_decorative_box_1x2
streets_lighting_decorative_box_1x4
streets_lighting_decorative_cone_1
streets_lighting_decorative_cone_1x2
streets_lighting_decorative_cone_1x4
streets_lighting_decorative_globe_1
streets_lighting_decorative_globe_1x2
streets_lighting_decorative_globe_1x4
streets_lighting_decorative_globe_2
streets_lighting_decorative_globe_2x2
streets_lighting_decorative_globe_2x4
Street Lights (Repeating - Curtain Wall Styles)
streets_lighting_decorative_acorn_1
streets_lighting_decorative_acorn_2
streets_lighting_decorative_box_1
streets_lighting_decorative_box_1x2
streets_lighting_decorative_box_1x4
streets_lighting_decorative_cone_1
streets_lighting_decorative_cone_1x2
streets_lighting_decorative_cone_1x4
streets_lighting_decorative_globe_1
streets_lighting_decorative_globe_1x2
streets_lighting_decorative_globe_1x4
streets_lighting_decorative_globe_2
streets_lighting_decorative_globe_2x2
streets_lighting_decorative_globe_2x4
Swimming Pools (drop-in MvBlocks)
Streets_Sports_Spa_10x10
Streets_Sports_Spa_8dia
Streets_Sports_Swimming_Pool_Private_Artesian_22x40
Streets_Sports_Swimming_Pool_Private_Aspen_30x44
Streets_Sports_Swimming_Pool_Private_Lap_10x40
Streets_Sports_Swimming_Pool_Private_Lazy_L_20x47
Streets_Sports_Swimming_Pool_Private_Mountain_Lake_27x46
Streets_Sports_Swimming_Pool_Private_Oval_20x40
Streets_Sports_Swimming_Pool_Private_Stairs_20dia_1
Streets_Sports_Swimming_Pool_Private_Stairs_90d_1
Streets_Sports_Swimming_Pool_Private_Stairs_Straight_1
Sports (Fields and Courts as Blocks)
Streets_Sports_Court_Basketball_M
Streets_Sports_Court_Tennis_M
Streets_Sports_Court_Volleyball_Indoor_M
Streets_Sports_Field_Baseball_M
Streets_Sports_Field_Soccer_M
Streets_Sports_Half_Court_Basketball_M
Buy Codes, Access the OSMOSIS website and Download
| | |
| --- | --- |
| Access | The Streets 21 eKit includes a year of Access to the OSMOSIS website. Your purchase will provide you with a User Name and Password to the OSMOSIS website where you will be able to download this kit, the User eGuide and check for updates. All previous releases of this product are included with purchase. |
| $35.00 US | User Name and Password will be issued by e-mail |
| FYI | We also offer eKit Bundles - see www.archidigm.com/classroom for a full listing of our guides and kits. |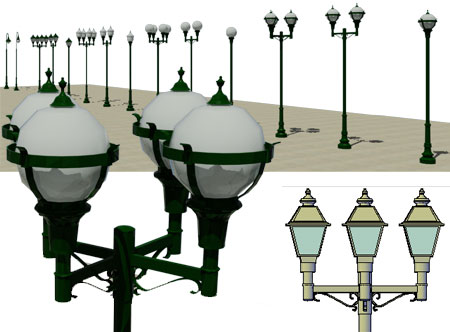 When you make your purchase, you will receive a confirmation e-mail within minutes ( if purchase is made on-line but longer if by phone, fax or mail ) that will contain your User Name and Password. Because this e-mail is automatically generated, some e-mail Spam Filters may block it - if this occurs, use the contact e-mail address below to request it.
Go to www.archidigm.com/classroom/osmosis or look for the OSMOSIS icon on the ARCHIdigm.com website to enter our subscription center. There you will be able to download the Streets 21 eKit Installation file, User Guide and check for Updates.
Contact:
kits@archidigm.com
CAD and IT Managers:
Some offices have highly customized template files with unique Display Representations, Sets and Configurations that may not work with our kit. We designed this kit for optimum performance using the default template files that come with ACA but all that means is that we utilized the High, Medium, Low and Presentation Display Configurations. Since the Presentation Display Representation is not a Standard Display Representation it will be introduced automatically as will some of the Material Definition Style Display Representation Overrides that we had to use in order to produce Cabinet-like linework.

The Object Style files are devoid of undesirable Layers, Colors and Plot Styles.

Installation Issues
Due to how the Tool Palette uses hard-coded paths this kit has been designed for a local installation "C:\Program Files\ARCHIdigm\Streets 2019 Kit". If this location will not work in your environment, you can use the Content Browser "Move" tool to relocate all content and set new path statements for Tool icons ( discussed in our User Guide).