From the Beginning
About four and half years ago I decided to spend a good chunk of money on one of Dell's top computers and flat panel monitors. I ordered the fasted CPU, SCSI drive, a really pricy Nvidia Quadro and the total price came in at around $4,600.00 ($799.00 for the monitor).
My rationale was that the higher end items will provide a longer return on the investment with higher performance along the way. When the Dell Precision 350 and Dell UltraSharp flat panel monitor arrived, I was quite impressed with the overall package; the plastic case looked good and sturdy and the monitor was very bright. When I set things up to start working, I discovered that the monitor did not have a height adjustment which had not been stated on their website (something that has now been corrected).
The machine screamed for about the first six months and I was very pleased, even wrote a glowing article, but then summer hit San Francisco and we had a few rare 90 degree days that made the fan go into overdrive. The fan problem continued even as the temperature dropped to the 80's and I started thinking about lab tests that are probably done in air conditioned spaces (old Victorian Buildings don't have air conditioning and with all the fog really don't need it). The temperature dropped back down to the normal 70's that we have in San Francisco but the fan became more and more unstable and one day the whole system just shut down.
Thanks to my next-day-on-site service contract with Dell, they did in fact send someone out to work on my machine. He replaced the motherboard and CPU in what appeared to be one of those, who knows, efforts to solve my problem. My boot configuration was not restored, however, and I wound up living with "Hit F1" to continue. Despite this problem, I was content with my machine and the fan stopped racing up and down like it was doing before.
Early this year that highly overpriced Nvidia Quadro card blew a gasket right in the middle of a project deadline so I ran out and bought an $80.00 Nvidia GeForce FX 5200 just to confirm that the problem was indeed the video card. To my astonishment, the new $80.00 card was actually better than the Quadro and even allowed me to use Full Shadows in Shaded Views with ADT 2007.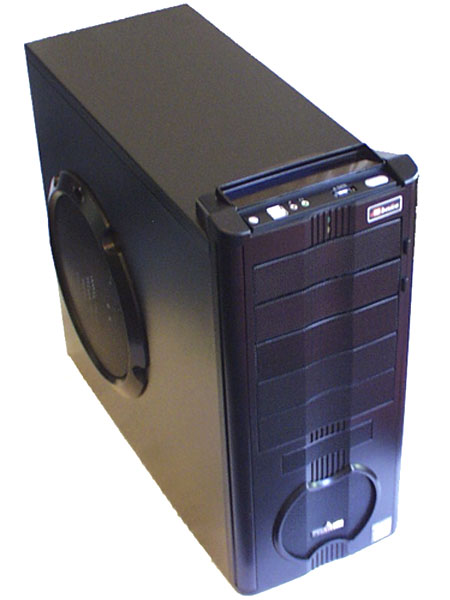 Blue lights glow from the inside of the case through the vents.
The Catalyst
The arrival of ADT 2008, now called AutoCAD Architecture 2008 (ACA 2008), forced me to start shopping for a new machine and that is where this story really begins.
Since I have been noticing an unusually high failure rate with other Dell products (including my laptop), I was not too keen on buying another one of their machines but Dell's website is irresistible. One of the first things I noticed about Dell's offerings is that the options seem rather limited, especially in the Video Card arena. After reviewing what I could get from Dell and the price I would have to pay I decided that I wanted to limit my spending to $3000.00. Since it appears that I am forced to upgrade my equipment every three to four years, this seems like a reasonable amount of money.
Over the last few years I have been reading about a computer company called XiComputer; you may have seen their adds in Cadalyst magazine. I knew they built fast machines for CAD but they always seemed a bit expensive. However, I decided to take my $3k to them and see what they could build for me. With the help of Robert Bragaglia at XiComputer, this is the machine we came up with (see image right and below right).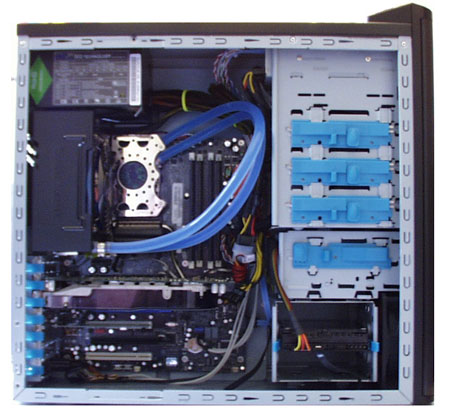 Yep, those are hoses and that's water coursing through my new machine.
The Order
XiComputer offers a fairly extensive list of CPU choices and I was considering going for one of the top quad-cores but after reading about multi-cores and multi-tasking I decided that I really wouldn't reap the benefits. Many people tend to confuse running multiple applications with multi-tasking or multi-processing. And, then there is also the question about whether or not the software you are running is multi-threaded. At this point you can hardly get ACA to run on Vista 64 so I focused on other items (see comments below).
I realize that CPU clock speed isn't everything but I hate buying slower CPUs when I know there is a faster one within my reach so I compromised and got XiComputer's OverClocked 2.66 Core2 Duo set to 2.93Ghz. This choice provided a substantial savings that allowed me to pick a better Video Card than I had originally considered.
Another factor in my purchase had to do with Windows Vista. My thinking was that I will eventually need to migrate up to this OS release so why not get it over with now and go all of the way to Vista 64. The problem with Vista 64 and ACA is that ACA doesn't install on Vista 64. Fortunately I have been monitoring the Autodesk Boards regarding this issue, there are some irate users out there, and eventually read some information from Autodesk employees explaining that Subscription Customers can acquire an "unsupported" workaround.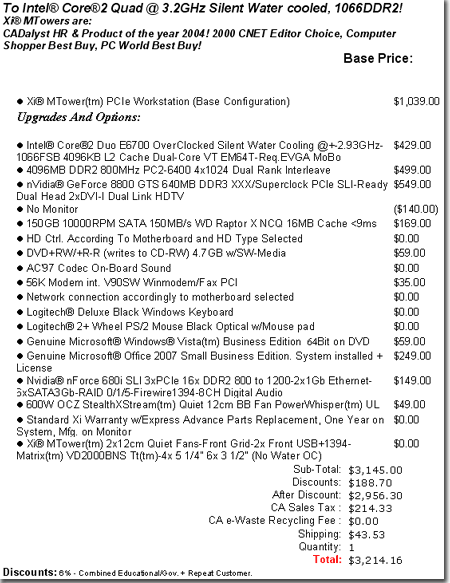 The Product
When I received the computer, I had two major concerns: what does this water cooling stuff look like and will ACA actually run on Vista 64. The water cooling stuff is interesting and only time will tell if I made a mistake (wonder if I could get electrocuted).
I managed to acquire some "secret" files from Autodesk that will allow users to install and run AutoCAD® Architectural 2008 on Vista 64.
The case I received was actually one XiComputer chose for me; I usually don't care about cases. I was surprised that it was an "old-school" metal style but I found that popping the side panel was far easier than any of those scissor style plastic boxes.
At the top front there is this little translucent lid that covers the power switch, speaker, mic., 2 USB and an e-SATA plug. There is actually a reset button on top as well which I have actually used once already when "Vista Shutting Down" wasn't shutting down - oh, boy.
The left side-panel, removable, houses a huge vent that measures about nine inches in diameter. Included with my order came a giant fan for this vent that I am not sure about; perhaps I can install it if I experience heat problems. The only problem I discovered so far with this setup is that the hole is on the left where I usually place my machines; up against a cabinet wall.
Fan noise is comparable to any other computer fan noise that I have heard.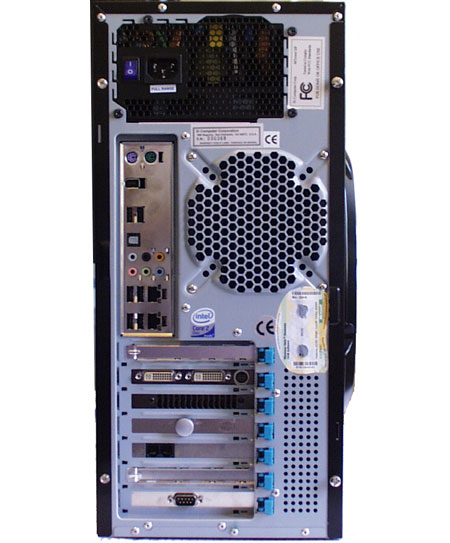 The End
If you are or were a diehard Dell customer, it is hard to try another company because you know exactly what to expect and, if you have had problems, you know Dell's support is pretty good. However, I think Dell has a quality control problem and I was really disappointed to discover that my machine had, and still has, an overheating problem. I just expected more and if I am not going to get more, I'd rather take a chance with a much smaller company where I can actually speak with the guy building my machine - so far I've spoken with a sales guy, a floor guy and their finance person. The machine was assembled here in the U.S. and it only took a week from purchase to door delivery.
I will continue my report on this machine next quarter and probably over the next year or two.
In the illustration to the right I show AutoCAD® Architectural 2008 running on Vista 64 with an active project. I also show that all of ARCHIdigm's '07 eKits and eParts have been installed in the Content Browser and run flawlessly under ACA 2008.