Missing Bonus Utilities
Comments by: Odin Cary
This article seems like one that I should not have to write but the question keeps popping up and thus I will help those who are unfortunately discovering that they don't have AutoCAD R14's Bonus Utilities.
The easiest solution to dealing with R14's multiple configurations is to simply install AutoCAD R14 with the Full button checked. You will see this option when you begin installing from the CD.
Many MIS people want to install programs in such a way as to minimize memory usage, but what they don't know about a program such as AutoCAD may be a real tragedy for the end user. I recommend to all installers that they go through the Custom option and carefully decipher what should not be installed if anything. Personally, I think that with a program such as AutoCAD, a solid user who explores possibilities and wants to grow with a program should always install everything – I mean, why limit yourself?
Checking for the Bonus Utilities.
Anyway, Before anyone gets upset do the following from your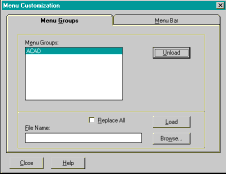 AutoCAD R14.
Type "Menuload" [enter]
Click on the BROWSE button.
Now, AutoCAD R14 can be installed in a number of different directories so you may have to hunt for it, but the default location is C:\Program Files\AutoCAD R14
Even if you find AutoCAD R14 somewhere else or in a folder with a name like R14, you will still need to look for a folder called "Bonus".
YES, I see the Bonus Folder.
If you see this folder, double click on it and then double click on the folder called "Cadtools".
Now you will need to change the file type your dialogue box is searching for.
Look for "Files of Type" and click on the drop-down arrow to list another file type: set to "Menu Template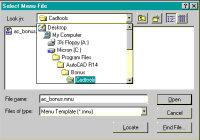 (*.mnu)".
Now you should see that there is one file showing: "ac_bonus.mnu".
Select this file and click on the OPEN button.
Then, click on the LOAD button.
An alert box will show up, but you can just click on the YES button.
Click the CLOSE button.
You should now see a new pull-down menu option near the top of your screen called BONUS.
Also,
Go to the VIEW pull-down menu and select the Toolbars… option.
In the Toolbars dialogue box, click on the down arrow of the Menu Group drop-down list and set it to "AC_BONUS".
Now you can turn on any of the Bonus tool palettes in the list above.
NO, I don't see a Bonus Folder.
If you don't have a "Bonus" folder, then you will need to install it.
The easiest way might just be to install the Full AutoCAD R14 right over your existing installation, but you could also use the "Custom" option on your installation CD to install just the options you want.
Note: The only risk you face is with customized menus and buttons. Installing over such customized items may wipe out your work if you have made such customized items. If not, you have nothing to loose but you may want to check with MIS people just to be sure about network configurations and so forth.
Once you have installed the Bonus Utilities, load AutoCAD R14 and if you don't see the bonus palettes and the bonus pull-down menu, follow the steps listed above under "Checking for the Bonus Utilities" and "YES, I see the Bonus Folder".