Create Structural Member
If your structural engineer has provided you with the structural column specifications, you should be able to find it in the Structural Member Catalog, illustrated left, and load it. If you don't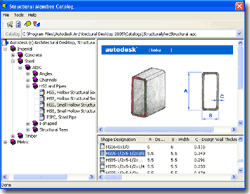 have the specifications yet, you can use the closest guess and modify it later on the Design Rules tab.
Once you have a Structural Member Style loaded into your drawing, use the Style Properties dialog, as illustrated to the right, to make the remaining changes. Since this Style is sure to be unique, you may want to add the name of the decorative column type to the end of the structural member size.
On the Display Properties tab of the Structural Member Style Properties dialog, use Style Overrides to assign the Blocks we created earlier to the various Display Representations that you want to change. For the Model Display Representation, for example, you will want to assign the 3D Model of the decorative column as illustrated to the right. Even if you did not create a 2D Elevation View of your decorative column, you will still need to assign the same 3D Model to the Elevation Display Representation ( it's not automatically done even though you have assigned it as part of the Model View ). Don't forget to repeat these steps for the Plan View by assigning the 2D Plan View Block of your decorative column.
Illustrated to the right I have placed some red dots on the Custom Block dialog in order to call your attention to important options that can make or break the success of all this work. Assuming you used the the bottom center as the insertion point of your decorative column block, the Position Along (X) should be set to "Start of Curve". Notice that the X-axis of the member is what we would typically think of as the Z-axis and that's why we created the decorative column along the X-axis instead of the Z-axis. To get the best results, I found that you can use the Repeat Mode options to force the decorative column block to be more flexible than a static block. Notice also that I show how you can use the End Offset value to recess a decorative column down to a finished ceiling or decorative beam height rather than the true structural column height. The Fit option with "Scaled to Fit" will stretch or shrink your decorative column Block up to a point. Since this feature is part of the "Repeat Mode", once you provide a physical length to your structural column that is two times the original decorative column Block's length, you will see a repeat or copy occur.