The Culprit
Most of the Content in ADT is actually really clean and won't introduce much more than the bare essentials. In fact, one piece of content continues to introduce nothing at all and if you want a good laugh, try to insert 2D Human (6) from the Metric Content Folder.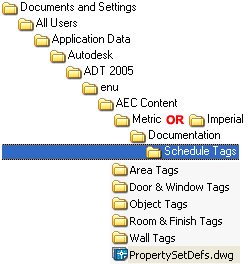 So, if the Tag isn't the source of unwanted data, what is?
The answer lies in the PropertySetDefs.dwg file which contains all of the Property Data Sets and Formatting Parameters; the stuff that lets you Tag a Door, for example, and collate data for your Schedule. This is a really really important file so if you plan to mess with it, make sure you know what you are doing.
Before you start the process of cleaning this file, be sure to make a backup copy in case you mess it up. For Metric users, the task is as easy as illustrated to the right: simply open the PropertySetDefs.dwg file and run the "Purge" routine and Purge All. Then, save the file and you are done.
For Imperial users, you cannot use the Purge routine because there is other data in the file that's "holding" on to useless stuff. I didn't have the patience to dig around and find the true source of all the unwanted data ( usually Object Style Display Properties) so I just created a new PropertySetDefs.dwg file from scratch by using the acad.dwt template file and importing the data I wanted from the Autodesk PropertySetDefs.dwg - read below.