Now we fix the blunder
When you are done with Step 9 above, your Door Schedule should complete but the problem is that it will not show the right Width value. In fact, it should show the exact same value as the old "WD" Column.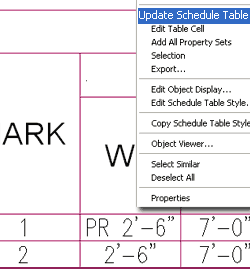 Illustrated to the right I show the steps required to fix the missing "PR" problem.
By using the Style Manager for Property Set Definition Styles, locate and Modify the ( 10 )DoorObjects Style.
On the Property Set Definition Properties dialog, ( 11 ) highlight the "WidthUnformatted" Automatic Property Name and use the ( 12 ) Edit Source... button to access the Automatic Property Source dialog. By scrolling down in the Automatic Property Source dialog you should find that the "Width" Property Source has been checked but we can change it to the "Width - PR" Property Source. Go ahead an Uncheck the "Width" and Check the ( 13 ) "Width - PR" but after you have done this, hold the ( 14 ) Ctrl key down and Check the "Width" Property near the bottom and under the Door/Window Assembly category. If you don't re-check this last "Width" Property, your Schedule will not be able to read Door/Window Assemblies. You should get an Alert dialog because you have two different Properties Checked but in this case, that's okay.
Note:
It is likely that the Description for the "WidthUnformatted" Property is erroneous and should simply say "Unformatted" but I figure we could make the Source match the Description rather than go through the trouble of creating a New Property Name ( maybe called "Width - PR" ). Perhaps that is something you will want to do for clarity. If so, be sure to use this new Property Name in the Schedule Table Style.