Do you get what you pay for?
It is often stated that "you get what you pay for" but sometimes people give things away at no charge because they simply don't want to go through the hassle of trying to make a tiny profit from a huge amount of work that has already been completed. In other words, Reid M Addis has compiled an amazing amount of information on the predecessor to Architectural Desktop's AEC Details module and has been gracious enough to provide it to all of us who find that we have absolutely no documentation on this tool ( outside of the aec.hlp menu, that is ).
Given that the AEC Details module is supposed to be a temporary fix for a truly integrated ADT Detailer, neither Reid nor the staff at ARCHIdigm felt that writing a whole new eGuide could be justified by the work involved. Instead, we did some minor cleanup work, named it the AEC Details eGuide, updated the first page and squeezed the whole 71 page document into a single 1.2 Mb .pdf file. So you have been warned, this document was written for users of the original Softdesk S8 AEC Tools Details Module(DS) Release 8.x and has not been updated to its current state as a separate program included with Autodesk Architectural Desktop 1 - 3.x. Fortunately though, not that much has changed and this eGuide is definitely worth a lot more than what we are charging for it.
Download: AEC Details eGuide.pdf (1.2Mb )
By the way, Reid will be happy to accept donations for his fine work.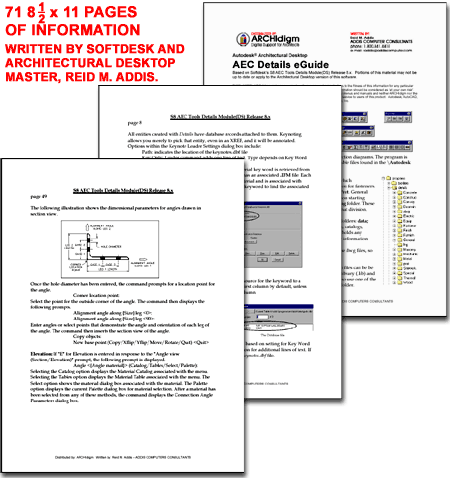 About the Autodesk® Architectural Desktop Installation CD
| | |
| --- | --- |
| Topic | Architectural Desktop 3.3 CD |
| | |
| Location | Adt3[ ]/Details/setup.exe |

Though it seems quite obvious, I often have to remind people to explore the installation CD for options and features that are not part of the default installation process. Of particular importance, is the Details folder within which you will find a semi-updated version of the old Softdesk Detailer. If you are not familiar with that tool, it is basically a set of commands and a block library that helps to draw 2D construction details. It is easy to install but you will find that it creates a new Desktop icon that utilizes a unique profile. In reality this is a clunky solution that was supposed to be a temporary offering but there has yet to be any sign of a true ADT solution. For many, this tool is far better than nothing and this is especially true for those familiar with the Softdesk Detailer.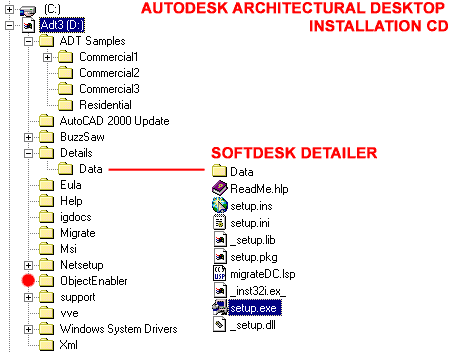 You will also find the Object Enabler for ADT 3.3 objects on the installation CD and this should be used for AutoCAD 2002 users who don't have ADT ( note: always check Autodesk's PointA website for a more up-to-date set of Object Enablers ). It will allow AutoCAD 2000 - 2002 users to read the ADT objects as native objects rather than Proxy Objects. This means that they can do minor editing such as Moving, Copying, Rotating and Deleting but higher levels of Modifications are not possible.
About AEC Details
| | |
| --- | --- |
| Menu | Details> Compose Detail > Material Compose |
| | |
| Keyboard | unknown |
| Links | |
The AEC Details program consists of one pull-down menu and four toolbars but don't let that fool you about its capabilities; it's quite sophisticated and delivers a lot for those who crank out a lot of details on a regular basis.
At this time, Reid Addis' work appears to be the only readily available information on the subject. The AEC Detailer does come with its own Aec.hlp file that will provide some level of assistance. This file is located in the Help sub-folder of Architectural Desktop. Paul Aubin claims that he will have something on this tool in his second book.
Depending on future developments and the interest in this eGuide, we may work on updating it as a true eGuide to be part of our growing collection of eGuides on Architectural Desktop.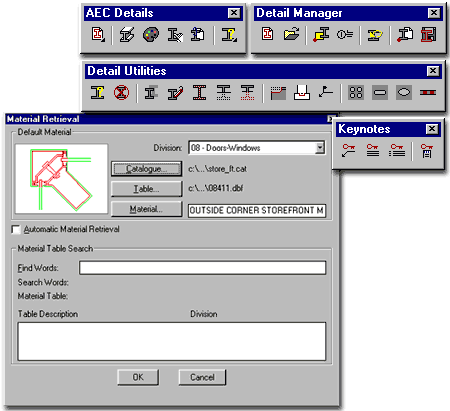 Though the AEC Detailer uses a separate Desktop Icon and profile to run correctly, I have had few problems using it by simply switching over to the AEC Details Profile while running my regular Architectural Desktop Profile. Be aware that this program is not really part of ADT and thus does not comply with ADT standards/tools. When running the AEC Detailer, you cannot run in Multiple Document mode. If you switch back and forth between profiles, I have found that many of the settings required to make the AEC Details run correctly seem to get transferred. Therefore, unless you know what you are doing, I seriously recommend using the desktop icon configuration to set the right profile. You can distinguish the two icons by using the old sdsk.ico from the /programs folder.
About the Author
Mr. Addis first began working with CAD in 1987 as the office manager of a small architectural practice. In January of 1988, Reid became the CAD system coordinator of Bower Lewis Thrower Architects in Philadelphia. A year later, he formed his own CAD consulting firm, Addis Computer Consultants, which he currently manages while serving as the Architectural Application Specialist at Granary Associates in Philadelphia.
Reid is a Certified Technical Trainer (CTT), and an AutoCAD Certified Instructor (ACI). Beginning in 1993, Reid became a Softdesk Registered Consultant (SRC). With Autodesk's acquisition of Softdesk in 1997, the SRC program evolved into the Autodesk Authorized Independent AEC Consultant program. Reid has always felt that a consultant's three greatest assets are honesty,
integrity, and independence. In order to provide a wider variety of services to his clients, Reid began to support KETIV's ArchT software in 1997, and was a Certified ArchT Trainer. Reid also works with IntelliCAD, and 3D Studio Viz. Reid provides training for AutoCAD's Architectural Desktop, AutoCAD, AutoCAD LT, 3D Studio Viz, and IntelliCAD. Reid is also co-author for the book "Softdesk Architecture 1 Certified Courseware" from Onword Press. He has worked with AutoCAD since 1987, beginning with Release 2.6, and provides production assistance to many architectural firms.
Reid also provides consulting services for the MicroStation community. He has worked with MicroStation since Release 3.3 and offers a variety of training courses for MicroStation SE/J. He has co-authored two books on MicroStation including "Inside MicroStation 5.0" from New Riders Press, and "The MicroStation Bible" from Onward Press. Before Ideagraphix was purchased by Bentley Systems, Inc, Reid worked with their MicroArchitect and speedikon M products
Reid M. Addis
ADDIS COMPUTER CONSULTANTS
phone: 1-800-841-4418 fax: 1-610-668-8828
web site: http://www.addiscomputer.com
e-mail: raddis@addiscomputer.com